The NAVY SWAMP DOG NEWS – 20 June 2011
Keith vs. John at the Saunders Subaru Victoria Half Iron Triathlon - Sunday, 19 June 2011
| | | | | | | |
| --- | --- | --- | --- | --- | --- | --- |
| | 1900m swim | T1 | 87K Bike | T2 | 20K Run | Finish |
| John | 28:26 | 2:26 | 2:45:50 | 1:19 | 1:45:08 | 5:03:06 |
| Keith | 27:08 | 3:04 | 2:48:05 | 1:23 | 1:46:54 | 5:06:31 |
Filed by ace reporter 'Old Sea Dog' Swampbottom (Swampy)
Well folks, we were gathered at Elk Lake for the first triathlon battle between Keith Kendal and our man Colonel John McManus (called Old Man by Kendal). This formal battle has been almost three years in the planning stages, even though there was an unreported and unofficial Keith vs. John battle at the 2011 Masters Swimming BC Championship Meet in Kelowna during April 2011.
Keith only signed up for one event which was the 1500 Free, and the seeding worked out perfectly on the Friday evening. They were placed in the 2nd fastest heat, and side-by-side in lanes 4 & 5. A better situation could not have happened. Let us present a quick recap of the race because it does set the scene for this 2011 Half Iron triathlon. As usual, John started a bit faster and had a few second lead at the 200m point. Keith battled back and took the lead by the 650m point. John dug down and caught Keith at the 750m point and continued to hold 41-sec splits. John's lead continued to the 1500m point and he ended with about 15 second victory.
So, as the triathletes gathered on the beach by Elk Lake early Sunday morning, the consensus among the people that swam, cycled and ran with both of our gladiators was that the Old Man might take the swim and the two transitions while Keith would take the bike and the run. This assumption was based on John's experience gained on his having completed more than 20 triathlons when compared to Keith's 3 triathlons - none of which were as long as a Half Iron.
Well let's talk to our two combatants. First, we are going to interview the Old Man (OM). Then, we will interview the challenger, Keith Kendal (KK).
OM, how did this battle come about?
OM Last summer as we all know, our naive KK signed up for Ironman Canada (IMC) for August 2011. At that point, the longest triathlon that he had ever completed was an Olympic Distance race at Elk Lake - one with a gentle, fairly cool and flat 10K at the end. I told him that he needed to get a couple of Half Iron triathlons under his belt before IMC 2011 so he knew what it would feel like when "the wheels come loose and fall off". Since I was already signed up for the 5-race Lifesport Western series, I put the pressure on him to sign up so we could race each other. He agreed to the competition, and actually signed up for two Half Irons - he also signed up for Osoyoos in July! So, we agreed to go head-to-head in both the Victoria Half Iron in June and the Sri Chinmoy Olympic Distance race on July 31st.
OM, tell us about the swim from your point of view.
OM We "milled about" on the beach looking for a good starting position. Keith was clinging to Lynne Yearwood because she is a very steady and experienced open water swimmer from Vic Masters who was only doing the swim as a relay team member. The organizers forced us to move closer together to get in-between two start markers and, at that point, I lost touch with both Keith and Lynne. I never heard the countdown to start, but I heard the gun go and there was a mad rush for the front on the left hand side. I stayed wide left for about the first 400m, but then pulled in to the buoys before the first turn near the rowing boathouse. I tried to pick up someone to draft, but the lead pack was a little too far ahead, so I just kept my own pace because I did not want to waste any energy on the swim. About half way to the 2nd turn buoy, there were a pack of 3 swimmers right with me. I tried to slow down a bit to let one take the lead, but they just slowed down and kept drafting me. One of them was an East Coast Navy relay swimmer 'Harry' who had been on me since the start but he told me after the race that he was poor at navigation and knew that I was experienced in Elk Lake so he was going to draft me no matter what I did. So, I dragged 2 guys and a girl for the next 1200m. Based on the fact that I did not work very hard on the swim, I figured that I was on about a 28 and a half minute pace - which turned out to be correct. Since Keith was going to chase Lynne, I thought that he probably had a bit of a lead on me as we came out of the water.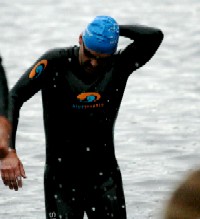 KK, tell us about the swim from your point of view.
KK Like John said, I also never heard the countdown. I was to the left of Lynn and John, and boom - we were off. As a result, I never saw Lynn or John after the start. I only worried about making sure that I was to the left of the crowd. I swam a pretty good race leading out just staying 'smooth and long'. It was a bit crowded getting to that first turn buoy but nobody passed me getting out there, and nobody passed me all the way home - that I remember anyway. I'm sure I was just a few bodies ahead of John at the first buoy. But after that, I just stroked long and smooth. There was clear water in front of me coming home, and I could see about 6 bodies just ahead of me. Based on the results, there was actually 6 guys and girls who finished in the 20 seconds ahead of me. But, who wants to work that hard? Apparently, there were 4 swimmers who finished right after me within a few seconds. And then, 1 min and a bit back were 3 swimmers, of which John was one of them.
I probably hit that first buoy about 30 sec ahead of John and then gained another 40 seconds on the return to the beach. Of course, if John had of been next to me right from the start, he would never of let go of me! I knew coming into the transition that I was ahead of him as I never saw the "Green Hornet" outfit worn by anyone else in the transition!
OM, tell us about your bike...
OM As I pushed my bike through the gate at T1, right after this photo on the right was taken by Claudia, Ian Skelton leaned over the railing and said "John, Keith is ahead of you - not much, but ahead". Assuming that KK would be biking about the same speed as me, I thought that I might not see him until well into the course. I cruised out Brookleigh Drive and got into my groove. Soon after the left turn to Oldfield Road, I thought that I could see Keith trying to go up one of the hills. I recognized the white headband hanging down from his helmet and the bike which always looked too small for him. He seemed to be in too high of a gear, and I went by him so fast that there was hardly any time for conversation. After the pass, I never saw him again. I was unaware until after the race that he was tracking me for most of the first loop. I was averaging 33 kph on the first loop and slowed it down to 31 kph on loop two as I was afraid that I might fall apart in the run if I kept up that speed for another hour and a half. As it turned out, the 2:15 that I gained on him during the bike was critical to keeping me in the lead and assuring ultimate victory.
KK Well I got out of T1 no worse for wear. I went into it 12th, and came out 20th. The results tell me John came out of transition at 25th. Since I took 3:04, that means that John should have been able to see me if he looked while we were both in transition. But, that was not likely as we were fixated in getting our biking gear on.
So, I apparently started the bike race with a 41 sec head start. That really isn't much in the grand scale. Well it is 2.25 km to the Oldfield road intersection with Brookleigh Rd, and John passed me soon after at about 3 km into the bike portion. I was kind of surprised, and more surprised at how easily he passed me as I was really struggling to find my legs. What I did like about this race was how slowly the other bikers passed by me. Last year, I swear they were flying by me. They were still flying by, but they took a bit longer to make the pass. Still, I started the bike in 20th and was 99th position at the end of the bike, so 79 bikers passed me in this race. John was 90th into T2, so he was only 9 bikes ahead of me! The "Green Hornet" was visible to me to almost to Willingdon Road by the airport which is about 22 km. After that, I lost sight of John. I just stuck to pedaling steadily, and I figured that maybe I would see him later in the bike portion when he completely exhausted himself!
I had a targeted time I wanted to do. I would be ecstatic if I came in at 2:45 for the bike, and would accept anything under 3:00. Well, at the halfway point I had a time of 1:22. Doing quick math, I figured double that and add 5 min. I came in at 2:48:05 and averaged 30.7 km/hr vs last years 28.8 km/hr in a Olympic distance triathlon. So, I was quite happy with my bike time. At this time next year, I will be faster by at least another km per hour! It will be 32 km/hr or faster! John averaged 31.1 km/hr this year. As stated earlier, I was 99th to John's 90th finishing the bike and he was 1 min and 35 sec ahead of me. That is not a lot, and I heard the race commentator mention John's name as I finished T2, so I at least I knew where he was as I started the run.
OM Right after I departed T2, I was looking for some bushes to get rid of all the Gatorade that I drank on the bike. I was deep in the trees on one of the early turns after leaving Hamsterly Beach and I heard a few runners go by. I glanced up each time, and did not see Keith. But, I had not seen all the runners who passed me, so I had a little concerned that he might have gone by. I got out on the trails and finished the first 10K in 53 minutes. I looked at the big clock and saw 4:11 right when Claudia took this photo on the left hand side. I thought to myself " if a 49 minute 10K is in these tired legs, it could be a sub-5 hour Half Iron". To me, that is a huge milestone. I always think about the pro and elite racers who race 4+ half irons, and to me, the 5-hour barrier is the cut-off between the elite racers and those age groupers who just go out to complete the race. I kept looking at my splits for the first 4 kms, and they were all between 5:10 and 5:20. Quick math told me that the sub-5 hour completion was for another day. I kept looking over my shoulder thinking that Keith, who is a much better runner than me, would be going passed soon. I was a little scared that if he showed up, we would have a duel at the end, and it would be painful as I knew that I would not give up easily! As it turned out, Ross ran by going the opposite direction and told me that Keith was "a few hundred metres behind". Fortunately, there was nobody from my age group closing and Keith was not around, so I did not need to sprint at the end. I finished with a 52-min 10K and waited 3 minutes at the finish line for Keith to cross. He looked like he was really hurting as he scampered up the mat to finish. I congratulated him for a great first Half Iron, and assured him that after seeing that 'gritty performance', he was ready definitely for IMC 2011.
KK No secrets here, I simply did not know what to expect, and was unsure of hurting my Achilles tendon. So, I walked 3 portions for 1.5 min in the first 5 km, and took a pee break 2.5 km into the run. I gave up about 4 min to John in the first 5k, plus he started about 1 min ahead of me. I should have just run until I caught him. I could have done that by 3k into the race portion.
Well, I stopped this foolishness after hitting the gravel parking lot at the '0K' post, and started running about a 5:10 pace. I hooked up with a very trim female runner at the halfway point, and felt for sure that I would catch John very soon after running about 5 min km for the last 5 km. I split a 54 min 10K, of which I would say it was 29 for the first 5 kms, and 25 min for the next 5 kms. John says he was 53 min, so that means he was 2 min ahead of me. That is about 400 m. I wish somebody would have told me that at the 10K point!
Nevertheless, I felt confident that I would soon catch him until, at the '4K' post, I felt a twinge in my right calf. I managed to keep it together for the next 6 kms to the '0K' post as I was only suffering a twinge every 500 m or so. I occasionally had to stop and stretch, but I kept a 5:20 km pace for this portion. I expect that John was probably just 200 m or so ahead of me at this point. I was slowly passing fellow runners who were suffering somewhat. Coming out of the forest just before the boathouse, I was on the ropes with calf twinges, and had to slow down, stop and stretch and watch about 8 guys or so that I had passed, pass me. My race was over. My running pace had been about a 51-minute 10K, but the last 4 km was more like a 60-minute 10K pace.
Houston I have a problem!
KK's post race analysis: everyone talks about "gel this", "gel that", "water this", "water that", and "Gatorade this", "Gatorade that". It is all crap! The same problem happen to me in the Desert Half 4 weeks later, and I suffered big time in the 21K run portion after having a great swim and bike ride. I ate lots of gels, drank lots of fluids etc, and it made no difference. The same thing happened to me last year in the 2010 Victoria Marathon where I split a 1:36 and then, at 26 kms, or 2 hours of running - boom - calf twinges. Based on what I hear from fellow athletes, the problem for me is that running appears to be required on a daily basis. Less intensity and more frequency. Either that, or I will just have to concentrate on sporting events that are less than 2 hours in duration and or do not involve more than 1 hour of running! Next year, I will be training for the Victoria Marathon again, so I would expect great runs in any triathlon event. My bike time will be better as I will be entering into my 2 years of training on the bike. I only really started bike training in February after joining the Schawbe Bike Club for my Sunday rides and Tripleshot for my morning rides. Be advised John that I am targeting a 4:45 to 4:50 time next year!
For the Sri Chinmoy race at the end of July, John and I are going to have a great race !. We will see each other in the swim, in the T1 and I plan on hanging back on him in the bike ride and sticking to him. We will run hopefully together in the run, and if all that comes true, it will be everyone for himself from Beaver Lake to the Hamsterly Beach finish line. Good luck OM, and lets get ready to rumble!
Well there you have it folks - the first triathlon battle is in the books with a very narrow victory for the Old Man. I'm Swampy reporting, and it is great to see that the battles have started again in 2011. The Swamp Dog News always gets the full story, so stay tuned for more excitement!